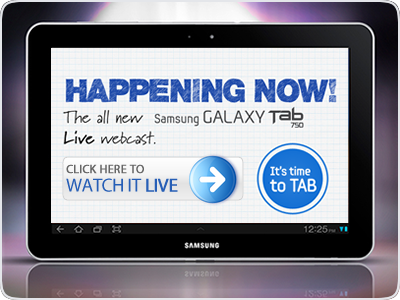 Samsung Mobile is all set to launch a 10.1 inch version of its successful Galaxy Tab series called the
Galaxy Tab 750
in New Delhi on Wednesday, 10th August. The launch will be webcast live on that day. The Galaxy Tab 10.1 possess Android 3.1 Honeycomb, providing faster and more polished transitions between different applications, more intuitive navigation to and from home screens and greater support of USB accessories, external keyboards, joysticks and gamepads.
The Galaxy Tab 10.1 also known as the galaxy tab 750 is the slimmest mobile tablet available in the world at present measuring in ultra-slim 8.6 millimeters. The Tab also is incredibly light weight of 1.25 pounds (565 grams) for outstanding mobility and comfort in the user's hands.
The Tab boasts of an excellent 10.1-inch HD touchscreen display with WXGA 1280 x 800 resolution delivering vibrant colors and sharp clarity. This euphoric screen is centered inside a narrow bezel to heighten the wide viewing angle. The Galaxy Tab 10.1 comes with content and services, pre-loaded with Samsung's Readers Hub and Music Hub, providing instant access to more than 2.2 million books, 2,000 newspapers, 2,300 magazines and 13 million songs. Also built in is a specialised tablet version of Samsung's Social Hub, which integrates email, instant messaging, mobile contacts, calendar and social network connections into a single interface. The Samsung Galaxy Tab 10.1 also fetch console quality gaming, with Gyroscope and Accelerometer for interaction and motion control, powered by 'mobile super chip' NVIDIA Tegra 2 for mind-boggling graphics.
Samsung Galaxy Tab 750 Specifications